Cheap fuel at the gas station of Polenmarkt Hohenwutzen.
As a German management, we place special emphasis on quality, safety and transparency for a familiar refueling experience at unbeatable prices.
You can reach us at any time - by email or by calling the toll-free number 0800 55 33 232.
The gas station is open 24 hours a day for you, also on Sundays and holidays!
Besides favorable fuel prices we also offer a free customer toilet, free parking, air and water and a 24h store with car accessories, cigarettes, snacks and drinks.
In the immediate vicinity of the gas station you will also find other market stalls and snack bars, which are open 24 hours a day, even on Sundays and holidays!

Fuel prices
Super1,47
Plus1,61
Diesel1,53
Current prices per liter in EURO.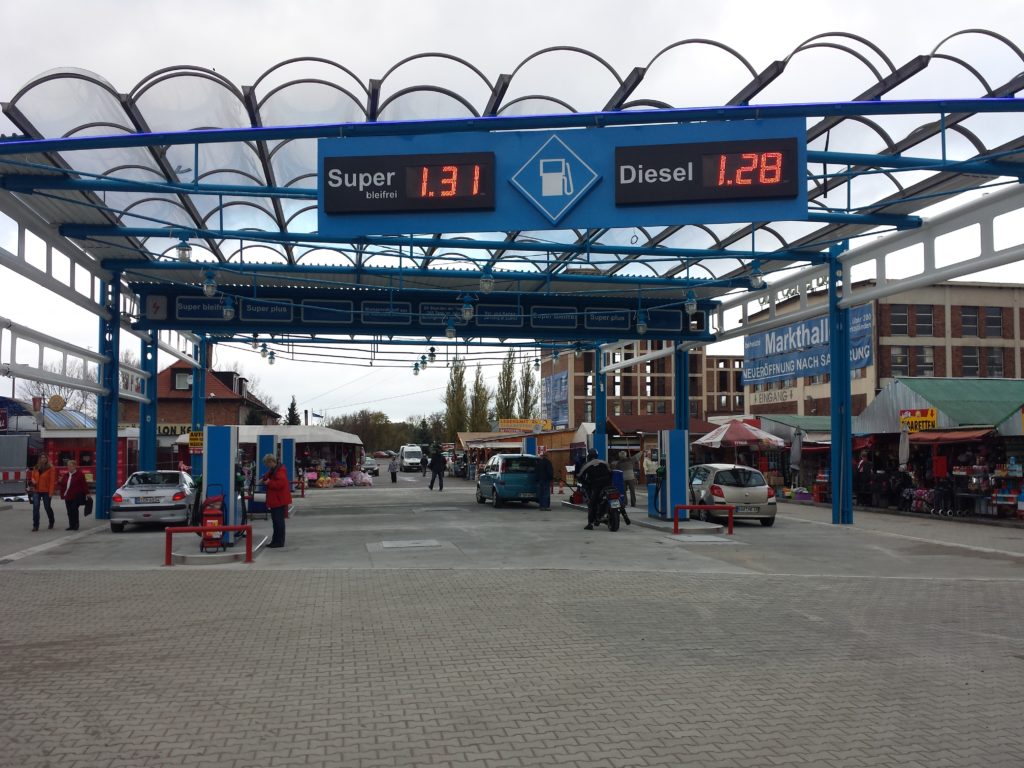 All the fuels we sell are sourced via a direct distributor from PCK Raffinerie in Schwedt (Germany). PCK Raffinerie supplies virtually all service stations in northeastern Germany as well as BER Airport with its quality fuels. 
In the last 20 years, 2 billion euros have been invested here in environmental protection and the future of many jobs.
Due to our strict guidelines regarding fuel purchasing as well as the permanent control of transport and sales, we can ensure that you only fill up with DIN-compliant quality fuels with us.
Super unleaded RON 95 according to DIN EN 228, contains maximum 5% bio-ethanol
Super plus RON 98 according to DIN EN 228, contains maximum 5% bio-ethanol
Diesel according to DIN 51 628/590, contains maximum 7% bio-ethanol
Charging station for e-cars
On the front large parking lot you will find our charging station for electric cars. It can be charged in parallel 2 vehicles with 22 KW each (type 2 / alternating current / three-phase).
Billing is convenient via app (EV+), RFID card or (without registration) credit card.
Here you can find a German-language manual for the charging pole, which is also directly attached to the charging pole.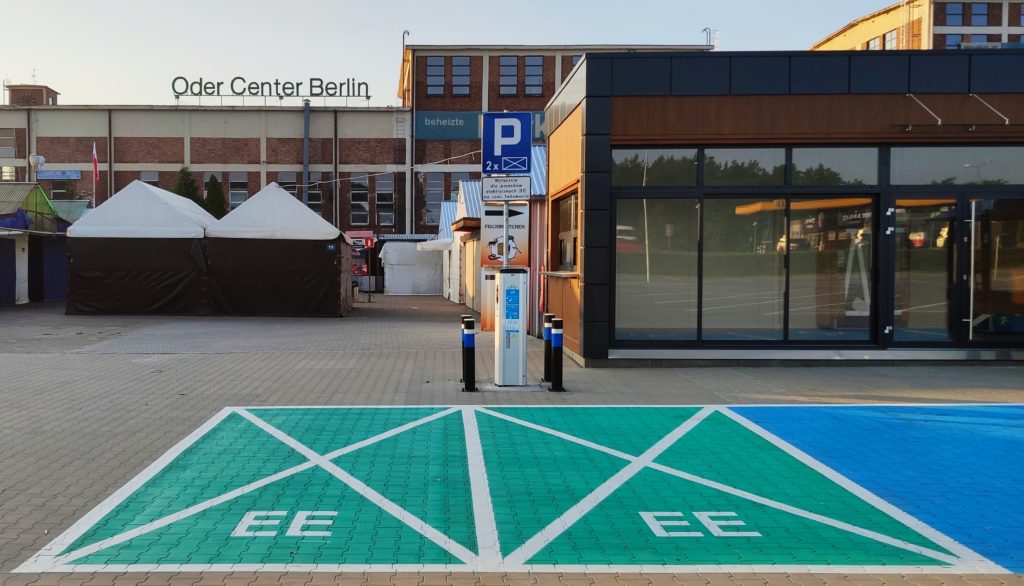 Customer reviews of the petrol station of Poland Market Hohenwutzen
We sell the conventional fuel Super Unleaded 95 E 5 according to DIN EN 228 without increased bioethanol content (E 10). Our fuel is therefore absolutely compatible with any vehicle, even older model years, and also much more energetic than E10 fuel, so that with our fuels you have a up to 3% lower consumption have
As at every gas station in Germany, you can also obtain so-called "winter diesel" from us from fall to spring. The corresponding admixture is done automatically by the refinery.
Our price policy: constantly favorable!
You know how it is: at the start of the vacations, at the weekend or in the evening, fuel costs significantly more at many filling stations in Germany - sometimes up to 10 cents per liter. This cannot be explained by a sudden rise in the price of crude oil.
On the other hand, our prices are often the same over several days, as we rely on a consistently favorable and transparent pricing policy. 
You will experience our current fuel prices here on our website.
Petrol pumps with Euro and liter display
As one of the few gas stations in Poland, we can offer you a safe and transparent display of the refueled quantity in liters, as well as the liter and total price in euros directly at the gas pump. You will not find the usual display in dm³ and zloty at other gas stations in Poland. This way we can exclude confusion and misunderstandings.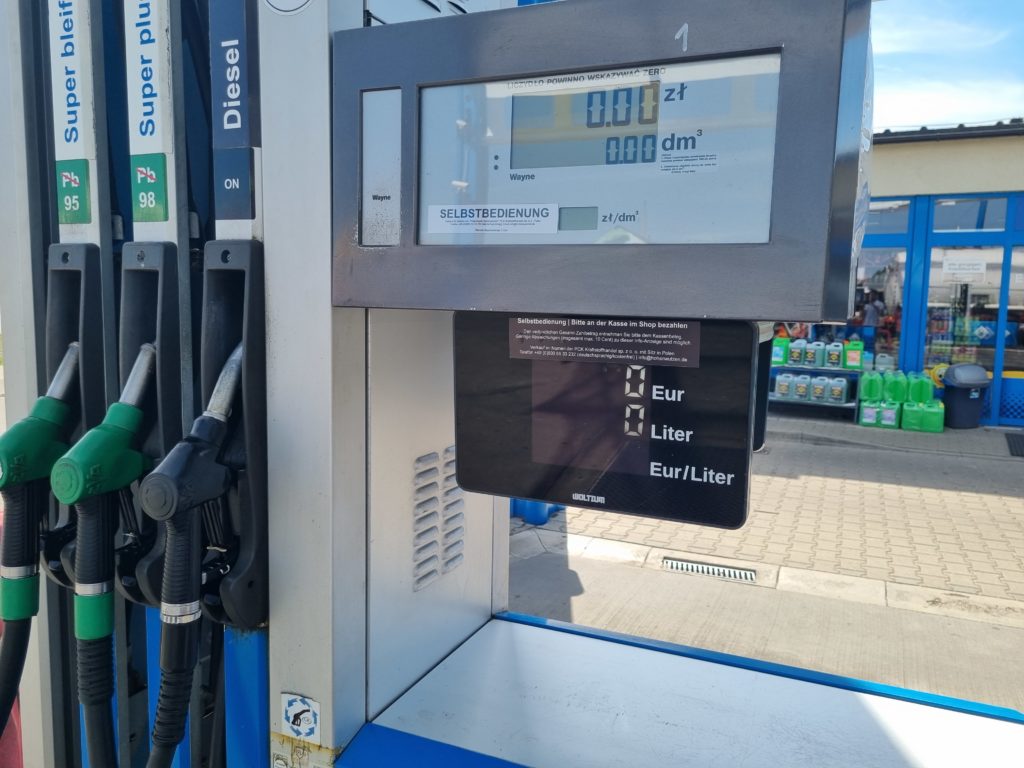 As one of the first gas stations in Poland, we offer payment by card in euros. In cooperation with the German market leader WEAT (info at www.weat.de), you can conveniently pay with EC, VISA, MasterCard or your smartphone. The exact amount in euros is displayed on the card terminal as well as on your EC or credit card statement and debited accordingly - just like a payment in Germany.
It falls no exchange rate losses or bank charges an.

Ad Blue can be purchased inexpensively from our partner company SB Tank Hohenwutzen. You will find the gas station about 200m further inwards in the direction of Poland. You can find more information here:
Use the opportunity as a company or trader and have the VAT paid in Poland refunded by the tax office.
As a company / trader in Germany, you have the possibility to be refunded the paid value added tax (VAT) for registered trucks at 100% and for cars at 50% by the tax office.
Prerequisites:
1. you are registered as a company / trader in Germany (or any other country) and entitled to deduct input tax.
2. you are not registered in Poland as a company / trader, therefore do not have a so-called VAT number.
3. they do not usually generate sales in Poland, except from transport services.
Deadlines:
The application for reimbursement must be made by 30.09. of the following year after the invoice is issued. (Example: Invoice date 02.05.2022, deadline for application 30.09.2023).
Minimum amount:
The amount of the requested refund may not be less than the equivalent in PLN (Polish zloty) of 50,- EUR. If the refund period is less than one calendar year, the minimum amount is 400,- EUR.
Amount of reimbursement:
- 50% of VAT paid on registered passenger cars used for both business and personal purposes.
- 100% of VAT paid on registered trucks.
Procedure for reimbursement:
Please first apply to the Federal Central Tax Office (www.bzst.de) once and free of charge a value added tax identification number (USt-IdNr.), if not available so far.
Please ask for a so-called invoice VAT (VAT invoice) from our gas station attendant for each refueling.
If you do not request it, you will usually receive only a simple receipt, which is not sufficient for the VAT refund. Reimbursement is not sufficient.
For your first refueling transaction, please fill out a short form with your company's address and VAT number. Your data will then be stored with us for future refueling transactions.
After the end of the calendar year you can apply for the refund, earlier if the refund amount is at least 400,- €.
1. log in to the website of the Federal Central Tax Office your Elster certificate.
2. select under Forms - VAT - Application for VAT refund of domestic entrepreneurs abroad.
Fill in the form accordingly and upload the scanned invoice VAT (VAT invoices for your fueling operations).
4. submit the form. Within a processing time of up to 4 months, you will receive the refund decision and the transfer to your account.
If you have indicated a German EUR account, usually 20,- PLN will be deducted for the transfer by the tax office. The transfer to a PLN account is free of charge.
Alternatively, you can also instruct the German-Polish Chamber of Industry and Commerce to apply for a VAT refund for a fee. More information on this in the Leaflet the AHK.
All information without guarantee. Please contact your tax advisor if you have any questions.